Thursday, 25. april, 19.30 Festsaal Kloster Muri
Ensemble Zefiro
Zefiro is one of the leading wind ensembles on old instruments and has performed at the most important European festivals and overseas with great success with audiences and the press.
Paolo Grazzi, Alfredo Bernardini, Oboe; Alberto Grazzi, Bassoon; Paolo Zucchero, Violone; Anna Fontana, Cembalo
Works by G.F. Händel, J. Baptista Pla, J.F. Fasch, A. Vivaldi, P. Philidor, A. Marcello, J.D. Zelenka.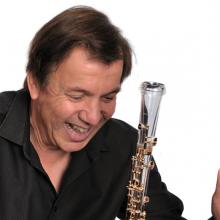 Masterclass with Oboman Jean-Luc Fillon
The famous French Jazz-Oboist Jean-Luc Fillon (pdf) will be conducting a masterclass in free Jazz improvisations. Free admission for all interested oboe  and bassoon players.
Class 1: 10.00 to 13.00 im Refektorium, Kloster Muri
Class 2: 14.00 to 17.00 im Refektorium, Kloster Muri
Registration is required
Friday, 26. april, 20.00 in the Chalet in the Klosterhof Muri
Folklore evening with formation Jost Ribary - René Wicky from Oberägeri ZG
Jost Ribary (clarinet and saxophone) and René Wicky (accordion) with Walter Aregger (piano) want to offer the best entertainment with laid-back, happy, folk performances and will bring joy and pleasure to everyone. The successful formation occurs throughout Switzerland and abroad at events of all kinds.