The Music Commission has various tasks such as defining the repertoire, inviting the jury, selecting orchestras and piano accompanists and is responsible for all music-related questions prior to and during the competition.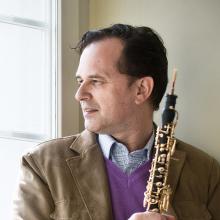 Renato Bizzotto, Artistic Director
Renato Bizzotto has a wealth of experience as a solo oboist and orchestra musician (e.g. Zurich Symphonic Orchestra, Aargau Symphonic Orchestra, Shanghai Radio Orchestra, Beijing Symphonic Orchestra, Opera Orchestra Zurich). He has performed extensively with orchestras, chamber music ensembles and as a soloist throughout Asia and Europe. He is a member of the Aargau Wind Soloists and organizes international master classes for oboists and bassoonists (www.murimasterclasses.ch) as well as events on the Herzberg near Aarau. Renato Bizzotto is the artistic director of the Musik im Festsaal series offered by Murikultur.
Martin Frutiger, President Oboe Jury
Martin Frutiger is assistant professor of English horn and oboe d'amore at the Zurich University of the Arts and the Lucerne School of Music. He has been solo English horn with the Tonhalle Orchestra Zurich since 2004. Martin Frutiger has won various prizes and awards, including first prize at the International Oboe Competition in Halle, Germany, and at the «Concours National d'Execution Musicale» in Riddes, Switzerland,  and second prize at the International Oboe Competition in Tokyo.
Matthias Rácz, President Bassoon Jury
Matthias Rácz is professor of bassoon at the Zurich University of the Arts. He has been solo bassoonist at the Tonhalle Orchestra Zurich and the Lucerne Festival Orchestra since 2003. At the international Music Competition Bayreuth "Pacem in terris" he won 3rd prize in the overall ranking of all woodwind instruments in the year 2000. In 2002 he won 1st prizes at the International Music Competition "Prague Spring" and at the ARD International Music Competition in Munich. His CD productions and live concert recordings bear witness to his artistic excellence.